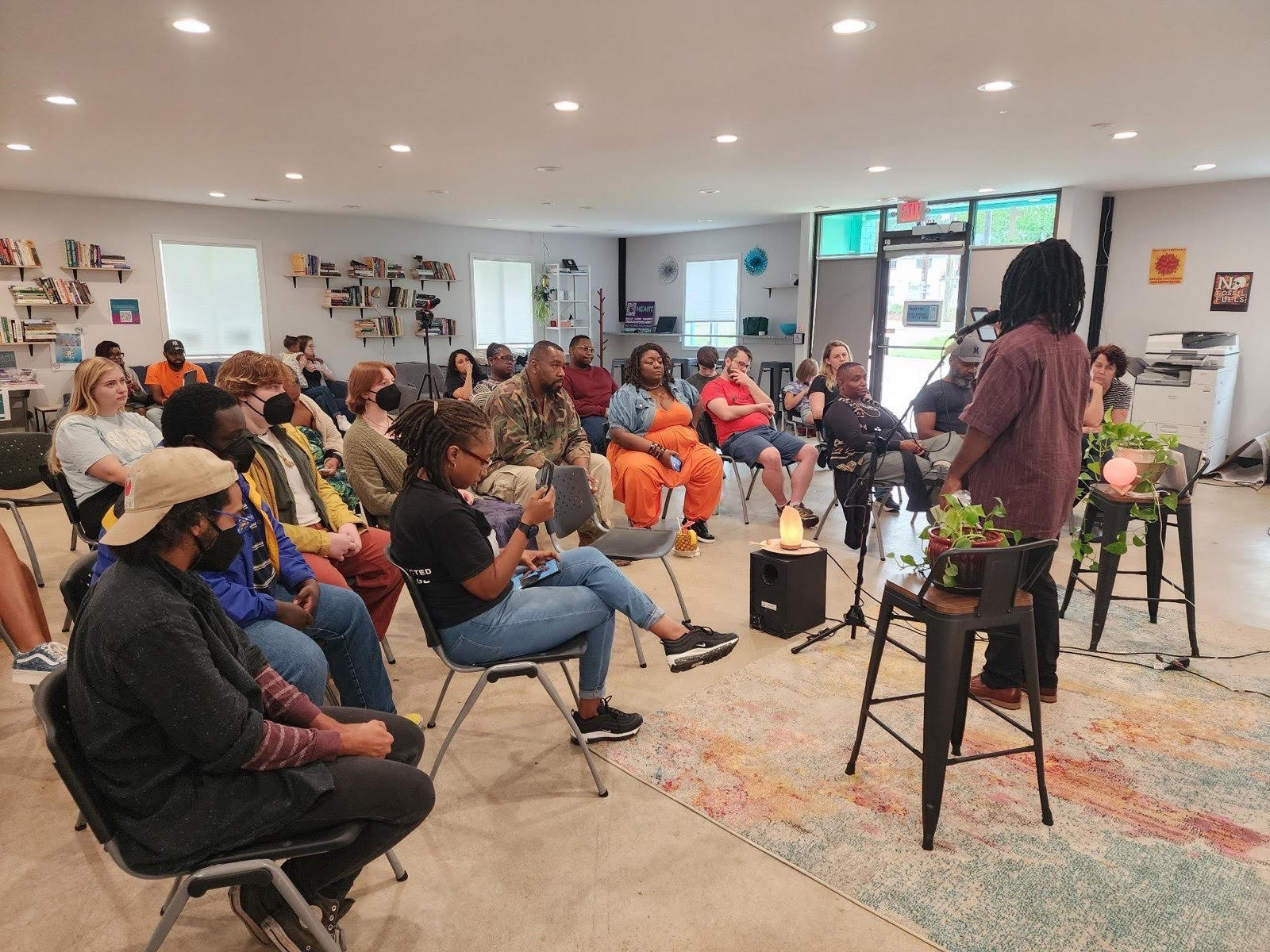 Attendees of Emancipate NC's Poetic Justice event absorb the healing words of one of the performers
Greetings PSH Friends, 
There has been tremendous growth and movement at PSH in the past year and a half since we first opened our doors in May of 2022. It has been an absolute pleasure to see the ways in which beloved activists and movement organizations throughout the Triangle have made PSH their organizing home. 
Here is just a small window into what's been brewing at PSH as of late:
Our End of Year Sustainer Campaign is about to Launch!
A Space for the Youth to Grow and Explore
In July, PSH became a hub for transformation, elevation, and healing for Black youth! At the beginning of the month, the space was home to the Black Girls for Liberation collective's Sumer camp. During this camp, participants were nourished in a weeklong space that "prioritizes cultivating co-created spaces of joy, healing, and liberation with and for Black girls."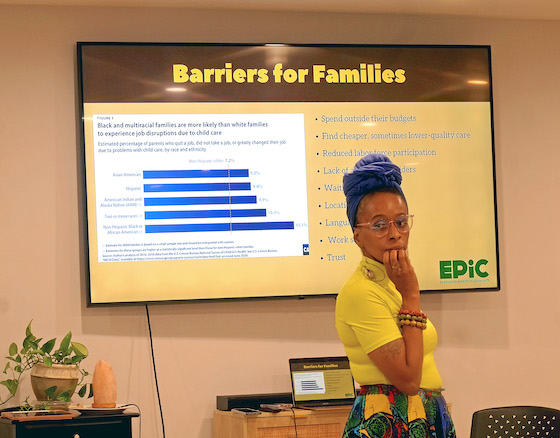 Advisory Council Member, Brittani Clark  facilitating "Kitchen Table Talk with EPIC (Empowered Parents In Community) to discuss systemic barriers to childcare specifically for Black families
Later in the month, Dangers of the Mind held a week long Black Social and Emotional Learning (SEL) Freedom School for Black teens. During the Freedom School, youth were exposed to emotional awareness and regulation tools that would resource them in  making  healthier decisions for themselves and their communities.
As we moved into Pride season, groups like The Kids Liberation Collective and Rainbow Collective for Change brought in young people to construct gorgeous Pride banners and signs. Though the Pride festival and parade were canceled this year, we are grateful that young people had a safe space to creatively express themselves and discuss the beauties and challenges of their identities.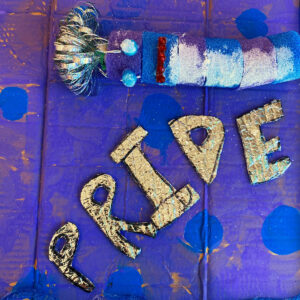 A colorful sign made during The Kids Liberation Collective's Youth Pride Sign Making event
We are excited to host spaces where young people can be resourced with various tools to navigate the struggles of the modern world by becoming connected with themselves and their communities, all while developing a politics of radical care and community love. 
"If we give our children sound self-love, they will be able to deal with whatever life puts before them." – Bell Hooks
Essential Workers Deserve Basic Rights
PSH was very proud to be a hub for NC Public Service Workers Union UE 150 to host and organize Durham  sanitation workers. After weeks of meeting in the PSH, the workers initiated a multi-day stand down that mobilized community members across Durham to join the demand for fair pay for some of Durham's hardest working essential workers. Outside of using the People's Solidarity Hub as a base for educating and agitating workers, UE 150 was able to utilize resources from the Lending Library for their rapid response rallies. Neighbors frequently dropped by to pick up yard signs that expressed support for these workers as they advocated for their right to fair wages and financial incentives for the hard work they have provided to the city for years (and for some workers: decades!)
"At the Durham City Council Work Session on October 5, a vote was taken to award $6.5 million in additional bonuses to the city workers. "We didn't get what we asked for, but we got a victory," was the common refrain amongst city workers after the meeting." More on the ongoing fight and ways to plug in here.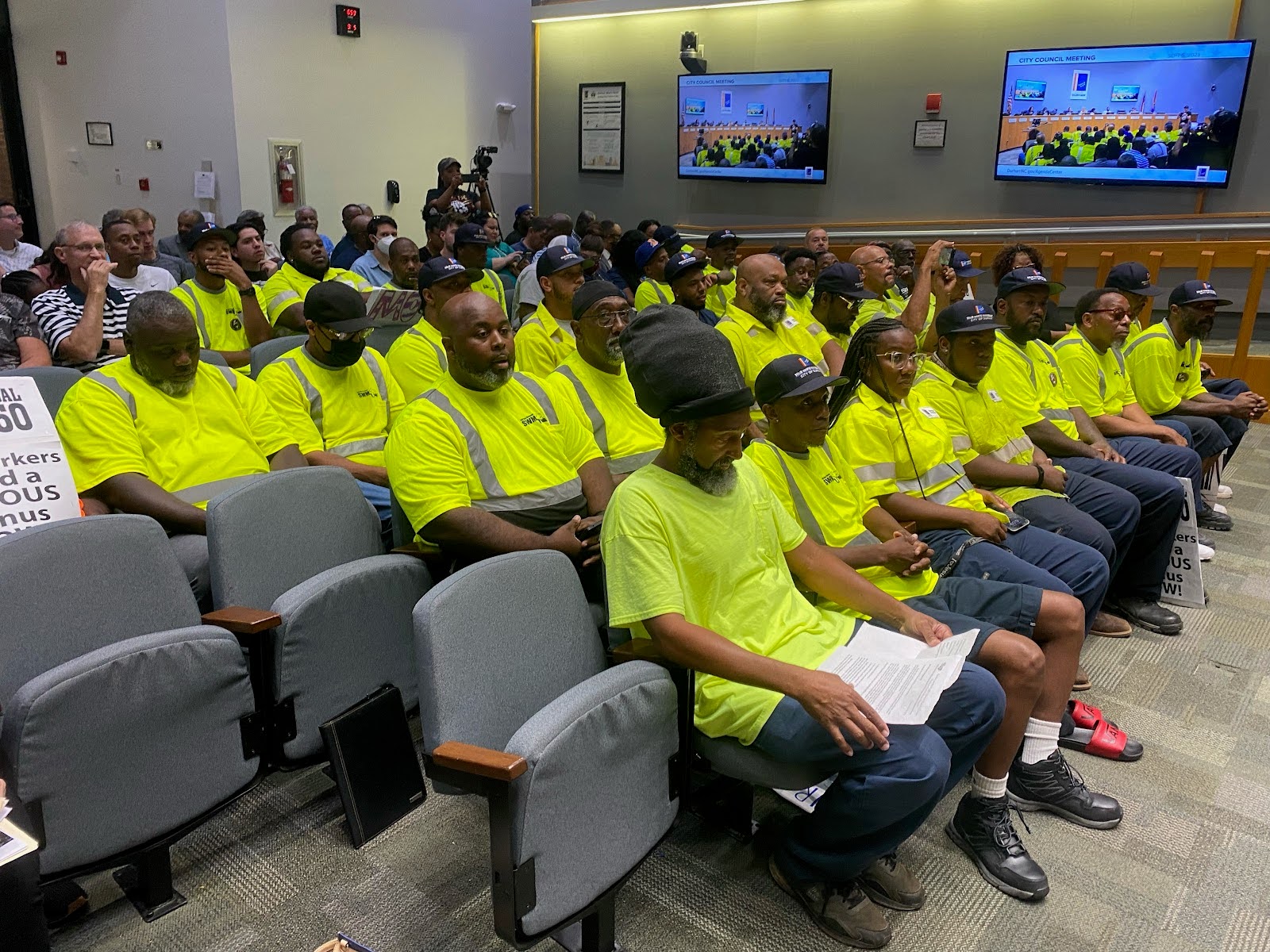 City sanitation workers pensively wait to be heard by Durham's city council members during one of their meetings
Healing is Political 
We have been excited to host a plethora of politicized healing opportunities this summer. One example has been the initiation of a twice-monthly BIPOC Meditation series. It is led by three local healers, including one of the PSH's own Advisory Council members! Those interested in attending will find peer-led guided meditations, a calming atmosphere, and a community of folks with similar bodies and body-related experiences that are interested in being more grounded and centered with how they approach their daily lives. The BIPOC Meditation series is scheduled for the second and fourth Monday of every month. Upcoming dates are  11/13, 11/27, and 12/11.
We were also delighted to see Durham Beyond Policing collaborated with BYP100 to bring in two members of BYP's Healing & Safety Council for their "IT BEGINS WITH US: Learnings from two BYP100 Healing and Safety Council leaders" session; these council members shared their lessons from the frontlines of the transformative justice movement. DBP has organized several invigorating meetings – including a visit from, and conversation with, civil rights attorney and freedom fighter, Walter Riley (father of Boots Riley).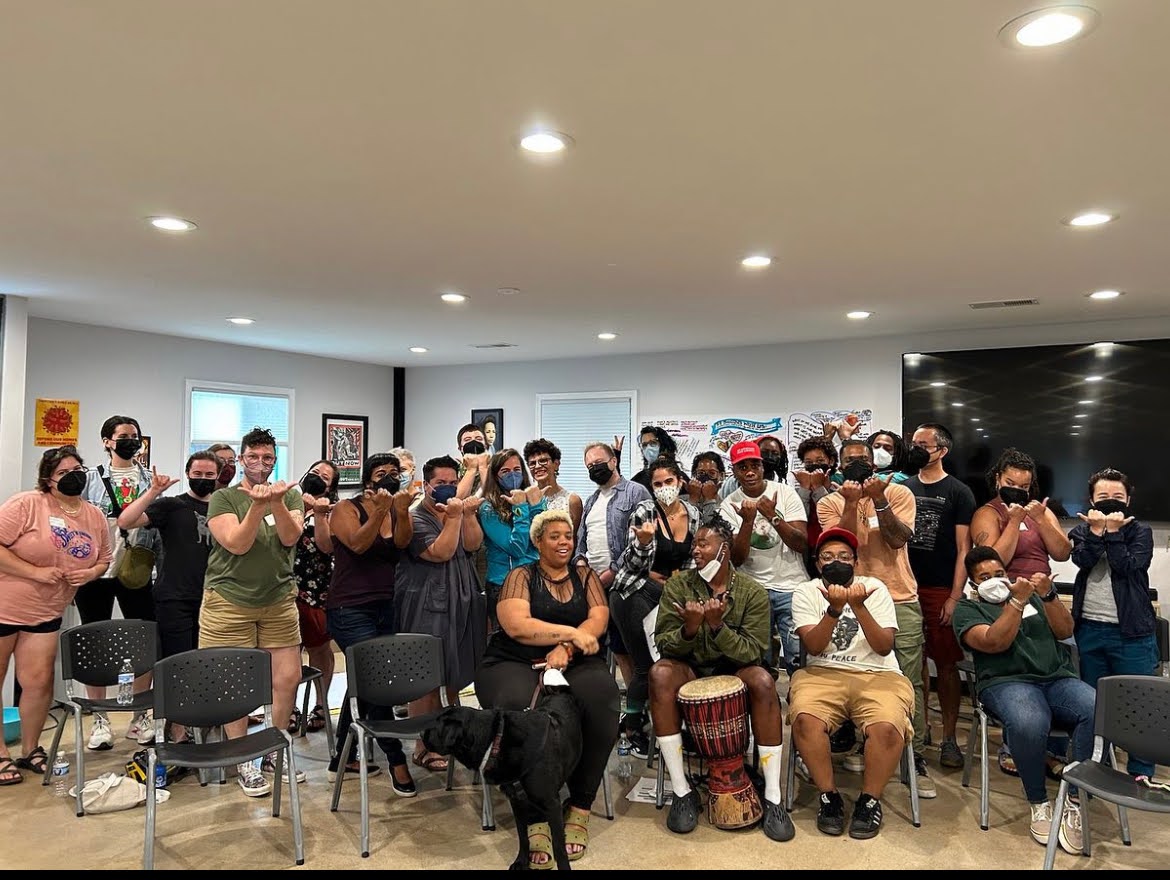 Durham Beyond Policing members hold the iconic "Bull City" hand symbol behind BYP100 Healing Committee members 
Later in the month, the Durham Community Apothecary and Compassion Access Project joined together to organize a film screening of "Dope is Death", in honor of the late freedom fighter, Dr. Mutulu Shakur. While participants watched the film about the Black Panther's struggle to bring in holistic healing practices like acupuncture to poor and working class Black communities, film viewers also received ear seeds and made herbal medicine. 
The ear seeds and medicine were provided by our friends over at Compassion Access Project, who have also installed a Community Herb Station at PSH and in locations across the Triangle. Attendees of various PSH events are likely to find tinctures and vitamins for a variety of common ailments (like hurting hearts and stressed nervous systems). We invite you to take some medicine off the shelf the next time you are in the PSH!
Emancipate NC also threw their annual Poetic Justice event, "to share stories about the criminal injustice system and how we overcome it."
Lastly, Sanctuary Embodied joined us in the space for another workshop series. This time, participants explored their embodied experiences and relationships to boundaries. We are excited to continue seeing somatic based workshops in the space, because we know that we must fill our movement with leaders that can identify and honor our enthusiastic yes-es, the griefs of rejection and "no", and other key aspects of boundary work.
Standing Against Colonial Imperialism AND Anti-Semitism
BlueprintNC and Carolina Jews for Justice had a full house at their Protecting Democracy/Countering Anti-semitism event in October. Though planned months in advance, the timing was synchronous, coming shortly after the escalation of conflict in occupied Palestine. We were happy to see this event in our space, and we are grateful to see our community connecting the dots between democracy and liberation for all peoples. 
We would like to take this time to share that Southern Vision Alliance and People's Solidarity Hub have signed onto this statement from the Rising Majority, which voices our solidarity with the freedom fighters in Gaza. Just as our Palestinian kin stood with organizers in the U.S. that mobilized a broad base of people to resist racism and police brutality in the wake of the George Floyd uprisings, we recognize the interconnectedness of our struggle in the continental US with the struggle of our occupied kin abroad.
PSH was honored to support Muslims for Social Justice,  Party for Socialism, and Liberation, People's Power Lab, Jewish Voice for Peace and other organizations demanding ceasefire during their Free Palestine actions throughout October. In sum, these rallies have mobilized thousands of people. Attendees include an intergenerational range of people from across religious and ethnic backgrounds. 
We recognize that the legacy of our resistance today sets the groundwork for liberation efforts in the future. We urge supporters of our space to get educated about this crisis, and to mobilize your community towards liberation and the divestment of U.S. resources from wars on occupied peoples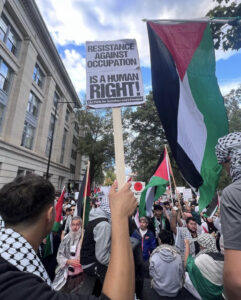 Thousands march in Raleigh NC for a Free Palestine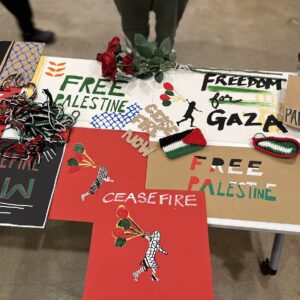 Durham Beyond Policing members gather for community and sign making at the PSH
Building Updates 
While there was lots of hustle and bustle at PSH this summer, the building itself also saw some exciting changes. Next time you drive by PSH, check out the 32 solar panels we installed on the roof! And the next time you go in for an event, bring your reusable water bottle so you can refill it at our brand new water fill station.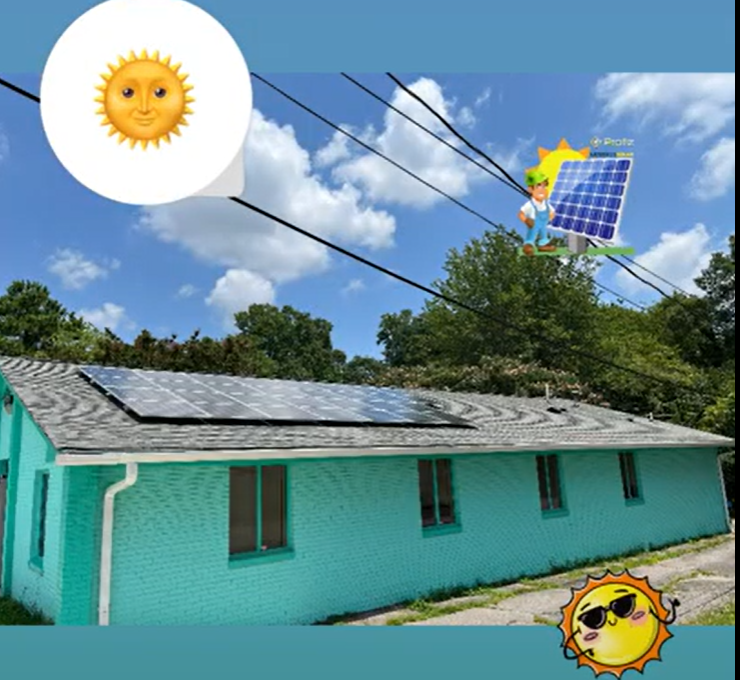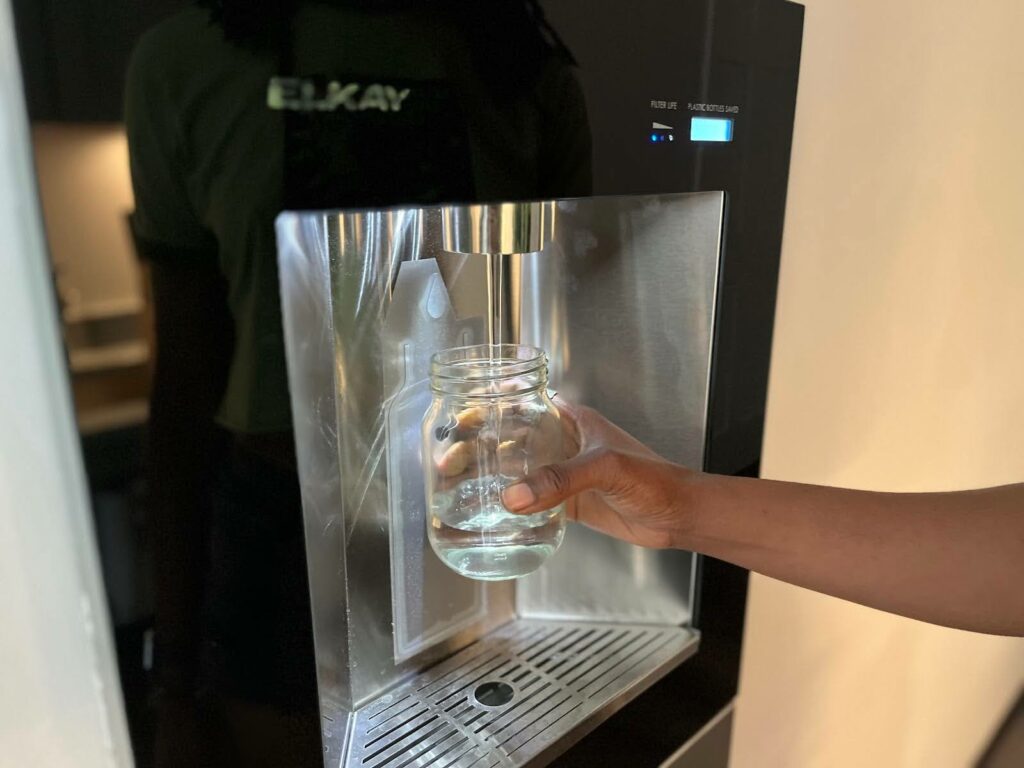 We are excited to monitor our energy usage and the water fill station to see the impact of these new sustainability measures!
All in for Giving Tuesday – Help us reach our Bold Sustainer Goal! 
We are averaging 25 users in the space a month (sometimes 2-3 users in one day!) It takes a lot of resources to sustain that action.Check out this infographic below to see more. 
For Giving Tuesday this year, we have the bold goal of raising 3k a month through monthly sustainers! 
We use a solidarity sliding scale to keep PSH accessible at as low as $5 an hour. However, with operating costs being $140 an hour, we rely on support from donors and grant funding. In addition, borrowing from the PSH Lending Library is completely free. This doesn't take into account wear and tear and the need to replace equipment. Your support keeps our space accessible, doors open & grassroots orgs continuing to crush it at the hub. Thanks for lifting up liberation in our lifetimes!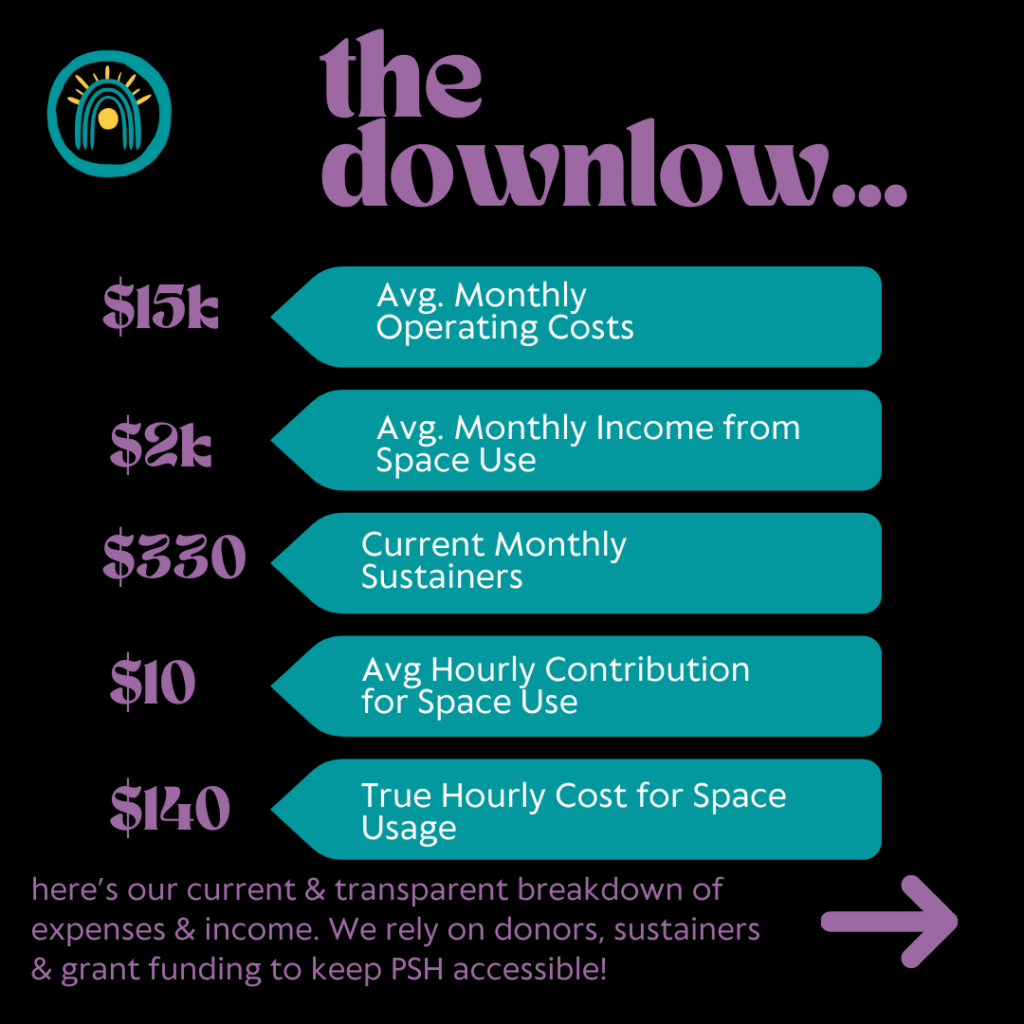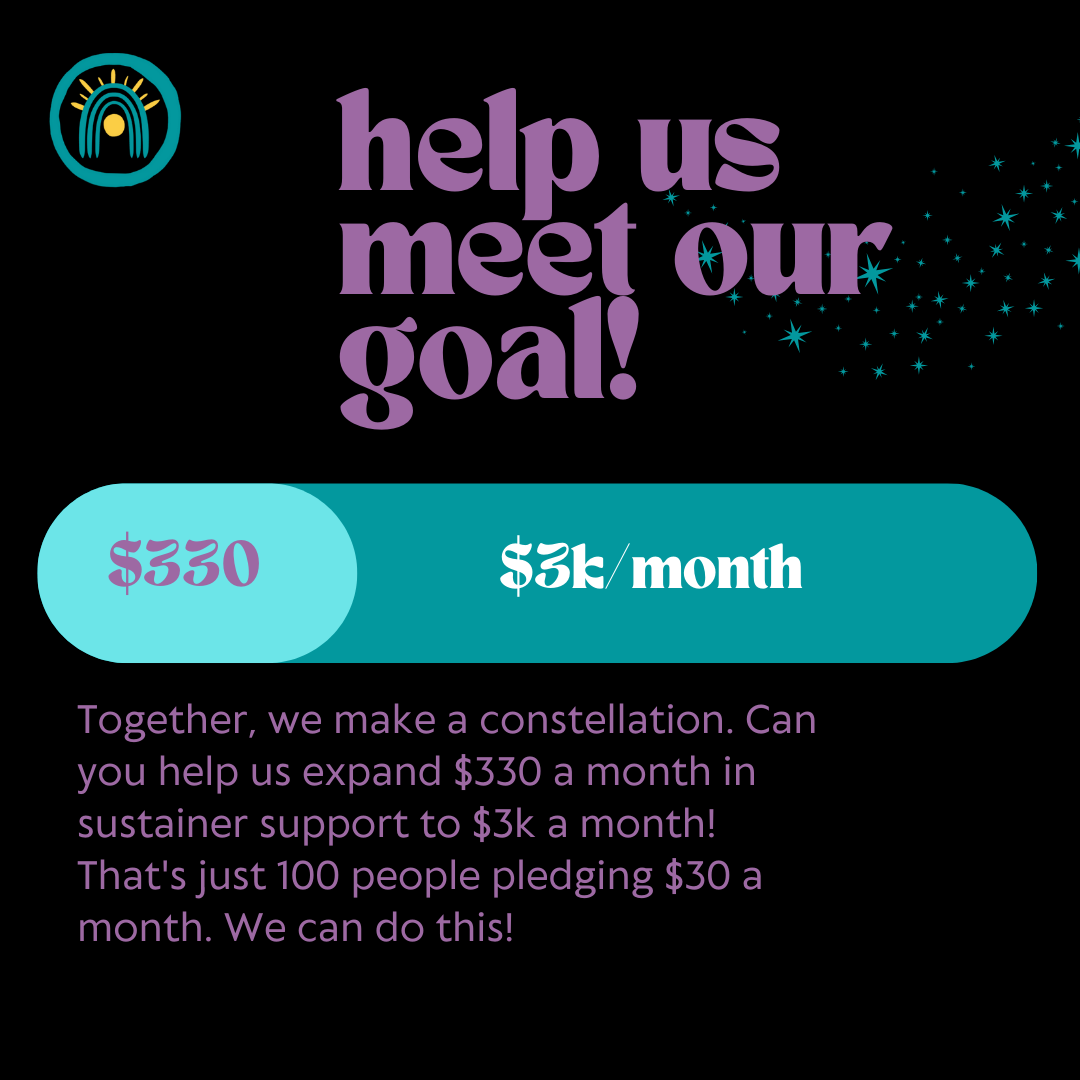 Anything you have to offer is welcome and deeply appreciated!
Radical Lending Library
As a reminder, PSH is more than a meeting space to gather and organize community members. It is also the home of our Radical Lending Library. Users are able to borrow items like canopy tents, speakers, folding tables and chairs, walkie talkies, safety vests, and more for their social actions & gatherings.   Here is a list of some of the events we were able to support this last quarter: 
Upcoming Events
Are you feeling inspired to get connected? Here are some upcoming events at PSH – we would love to see you!